First connection to Netshot
You've just installed Netshot, what to do next?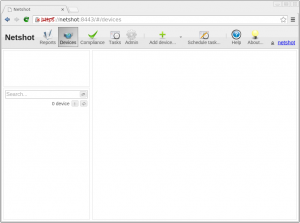 Go to the Admin section, and create valid accounts for the users.
Still in the Admin section, create a domain. The IP address is the IP of the Netshot server as seen by the managed devices.
Add SNMP (for autodiscovery) and SSH/Telnet accounts.
Now you can go to the Devices section, click Add device... and enter your first devices's IP address.
You can define static or dynamic device groups. They will be used in compliance policies.
Don't forget you can access Netshot's help through the Help button in the main toolbar.
Enjoy Netshot!